Printing have many method of it,like offset printing,silkscreen printing and other printing.It has used all over the life.You can see it anywhere in your house,your office even on your's body.It can be very simple and convenience,make the picture of what you like.On anywhere you want.

So,printing can be add on any material: metal, palstic, glass, wood, cotton on your wall or floor. And metal craft manufacturer are used with it usually. It's called printing lapel pins or printing metal pin .Can be make on iron, zinc alloy, brass or other metal. Of course it will be plating firstly. So printed on surface all the time. Less print on metal surface, except the stainless steel.

This printing metal pin printed all the front.Color of white,blue,red,green. USD 0.03 for extra color each. Words with: "GRUPPE B 16.09.08,26.11.08", "ANOPO EIE 1911". Similar with badge printing.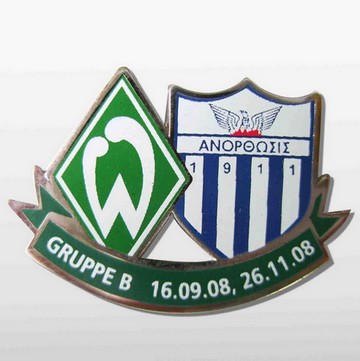 Below is the detailed specification:
1) Printing metal pin
2) Material:Stainless iron
3) Size: 1" x 1" or custom size
4) Attachmeng: Butterfly clutch
5) Production process:Stamping-plating-printing
6) Minimum order: No MOQ
7) Sampling time: 8 days
8) Delivery time: 8-15 days for 100-10000 pcs
9) Packaging: Each into a free poly bag
10)Payment Terms: T/T,Western Union,Paypal