Virgo is the sixth sign of the Zodiac. Born between August 23 and September 22, it is east of Leo (
Leo lapel pin
) and west of Libra (
Libria lapel pin
).
Virgo is a careful and generous sign, with a soft exterior and a passionate interior.Like to pay attention to details, easy to nitpick and nervous, meticulous work, although the more introverted will inevitably make the mood melancholy, but the natural advantage is to be open, will not be unable to recover after a setback, there is a goal to have progress, need constant encouragement.
Biggest characteristic: analytical ability
Ruling Planet: Mercury
Patronuses: Colonus, Ananque
Metal: Mercury
Tripartite Palace: The house of change
In charge of your house: the sixth
In charge of the body: brain, heart, digestive system
Lucky Numbers: 4, 5, 6, 7, 8, 11
Sign of the Zodiac: Pisces
Lucky object: crystal shore flower
Your lucky day this week will be Wednesday and Friday
Virgos are rational, critical (because they want things to conform to their subjective standards) and meticulous.Confidence and pride shine and respect absolute fairness.Virgo is an intellectual with firm and steady aims.Only pragmatism and calmness are eligible for a lover.Virgo's special worldly charm doesn't have to do much to win the favor of the opposite sex, making you gain a lot in love.
The Virgo lapel pins is the hard enamel pin with white color filled, round shape with polishing edge well. Simple design with nice quality. Also the Virgo pins can be whole printing sticker, and epoxy on it to protect. The hard enamel process will be more good and expensive. The whole print sticker cheaper and also good. Any process are fine based on your idea or budget.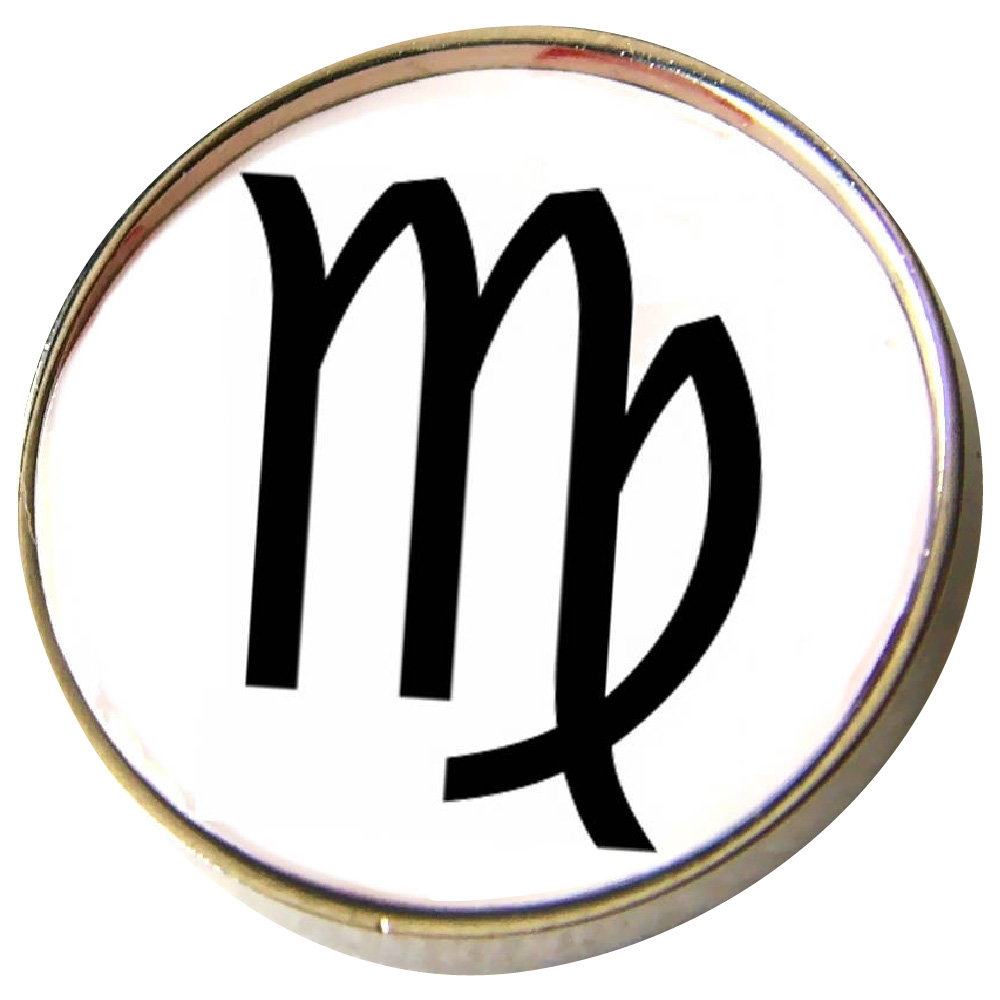 Here are the details:
1) Virgo lapel pins
2) Iron/Bronze/Copper/Zinc alloy
3) Size: 1.5" or custom size
4) Attachment: Rubbers or butterfly clutch
5) Production process: Die struck-polishing-hard enamel-nickel silver plating-printing
6) Minimum order: No Minimum (No MOQ)
7) Sampling time: 7 days
8) Delivery time: 10-15 days for 100-5000pcs
9) Packaging: Each into a free poly bag
10)Payment Terms: PayPal,T/T or Western Union