V is one of the youngest of the two letters in the English alphabet (the other is J), which appeared in Shakespeare's time about 1630. 900 years BC later, the Greeks borrowed the alphabet, and thus derived from two letters, a later evolved into the English alphabet F, the other is the evolution of V and Y. These two letters U and V can changed each other before 19th century, can be interchangeable.
V also means victory, win or get something. As we know, victory is not easy, must be suffering many many things, many many time and lot of fail. Victory can not be one day or one time, it's a continous process. Cost more then you will get more. "one effort, one harvest".
In the UK, the original anti "V" word hand, meant an insult to the opponent. Since this incident, is "V" word spread throughout the world. British Prime Minister Winston Churchill aloft "V" word, inspire people. Even then difficult are shouting: juvenile, never give up! Never give up! Never! never give up! Here is the V lapel pin, very simple design with "V", gold plating with high polishing. Also we making
number lapel pins
.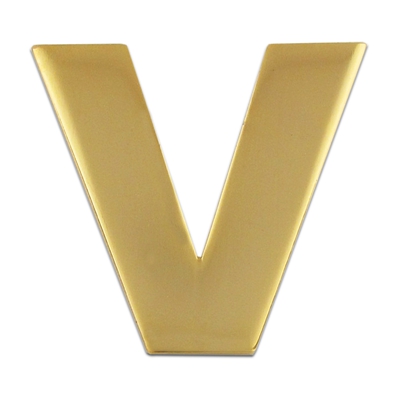 Below is the detailed specification:
1) V lapel pin
2) Material: Iron/Bronze
3) Size: 1" or custom size
4) Attachment: Butterfly clutch
5) Production process: Die struck-polishing-plating
6) Minimum order: No MOQ
7) Sampling time: 7 days
8) Delivery time: 10-15 days for 1000-5000pcs
9) Packaging: Each into a free poly bag
10)Payment Terms: T/T, Western Union, Paypal