L have many means in our life, below are part of it:

1. The 12th letter of the English alphabet, capitalized as L, lowercase l.
2. In the Phoenician and Hebrew alphabets, L is called lamedh and is the pictographic symbol of the oxgoad or the whip.
3. Moss code: ·— ··.
4.L stands for "left" in most English-speaking countries, such as left, left lane, left channel, etc., that is, English "left" (ant, right) abbreviation.
5. Geometric L or l that the length of the abbreviation for the length.
6. Mathematical analysis commonly used "(L) ∫" said Lebesgue integral (Lebesgue integral).
7. In physics, the moment formula is M = F × L, where L is the effective length. In addition, the blackbody L may also represent angular momentum. White body L said inductance.
Here we made L lapel pin: "L" shape with little camber recessed metal, each corner are polishing very well. Glossy and shiny, material can be bronze or zinc alloy. No colors filled, so polish and plating is the most important process. Similar pins here:
V lapel pin
and
gold lapel pins
.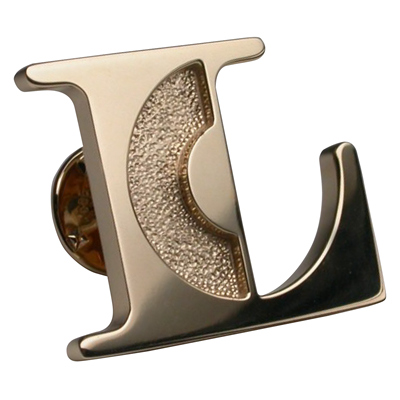 Below is the detailed specification:
1) L lapel pin
2) Material: Zinc alloy or bronze
3) Size: 1.25" or custom size
4) Attachment: Butterfly clutch
5) Production process: Die casting-polishing-gold plating
6) Minimum order: No MOQ
7) Sampling time: 7 days
8) Delivery time: 10-15 days for 1000-5000pcs
9) Packaging: Each into a free poly bag
10)Payment Terms: T/T, Western Union, Paypal