Idaho - ID is the northwestern state of United States. The North bordering with Canada's (Canada lapel pins)British Columbia province, southern boundary of Utah and Nevada, east of Montana and Wyoming, west of Washington and Oregon. Boise is the biggest ciy. "Idaho" comes from an Indian word meaning "Gem State". Famous attractions: the Salmon River, airport: Boise Airport. Have the deepest canyon across in United States: Hell'sCanyon. Potato production first output. Joined the Union in 1890, the 43 states in the USA.

A blue banner center for the State of Idaho state flag state emblem. Emblem under yellow (yellow pins) letters on red background for the State of Idaho (Idaho) ". According to the official description of the flag, the flag of the edge should have golden fringe decor, but a lot of the time the flag is not with the decoration. Insignia as a coal miner and a woman at the center of the flag, a symbol of equality, freedom and justice. State emblem on the marks some of the state's natural resources: minerals, forests, farmland and wildlife. First Idaho Infantry in the Spanish-American War in 1899 to use the banner of the flag. The flag was adopted in March 1907, and slightly modified in 1957.

Here is the Idaho lapel pin: gold plating and enamel colour filled. Center with print of printing pins, yellow edge is the die struck. That's the normal process and less turn over. Words of :"GREAT SEAL OF", "THE STATE OF IDAHO". Also some US state pin: Alaska Lapel Pins, USA lapel pin and Texas lapel pins.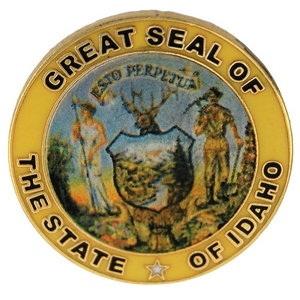 Below is the detail:
1) Idaho lapel pins
2) Material: Iron/Bronze
3) Size: 1" or custom size
4) Attachment: Butterfly clutch
5) Production process: Die struck-enamel-printing
6) Minimum order: 1 piece
7) Sampling time: 7 days
8) Delivery time: 10-15 days for 1000-5000pcs
9) Packaging: Each into a free oppbag
10)Payment Terms: T/T, Western Union, Paypal