Arthur Curry (Aquaman), is a superhero under DC Comics, first appeared in "More Fun Comics" Issue 73 (November 1941), by Paul Norris and More Co-created by Moore Vesinger. Atlantis, named Orin, is the illegitimate son of Atlantis, Queen of Atlantis, and Thomas Curry, the lighthouse keeper of the Port of Mercy, USA. He is half human and half Atlantis Human pedigree, from an early age, has demonstrated superpowers far beyond ordinary people.
After the queen was killed by her son Om, the lord of the sea, angry Arthur came to Atlantis and defeated her half-brother. At the same time, he revealed to the Atlantis that Aum killed his mother. To seize the throne in an attempt to provoke a conspiracy of war between Atlantis and humans. Because Arthur is the queen's eldest son, he deserves to be crowned the king of Atlantis, in charge of the Seven Seas, and was given to Atlantis. The symbol of kingship-Poseidon's trident, became the guardian of the sea.
The Aquaman enamel pins is the soft enamel pins with gold metal. Have the yellow hair with orange clothes, green gloves, pants and shoes. The hands on hips. Powerful muscle and black briefs outside. The Aquaman lapel pin have the shinny metal lines with beautiful enamel filled. Perfect technology and pretty cost. Please contact info@lapelpinscn.com if any inquiry.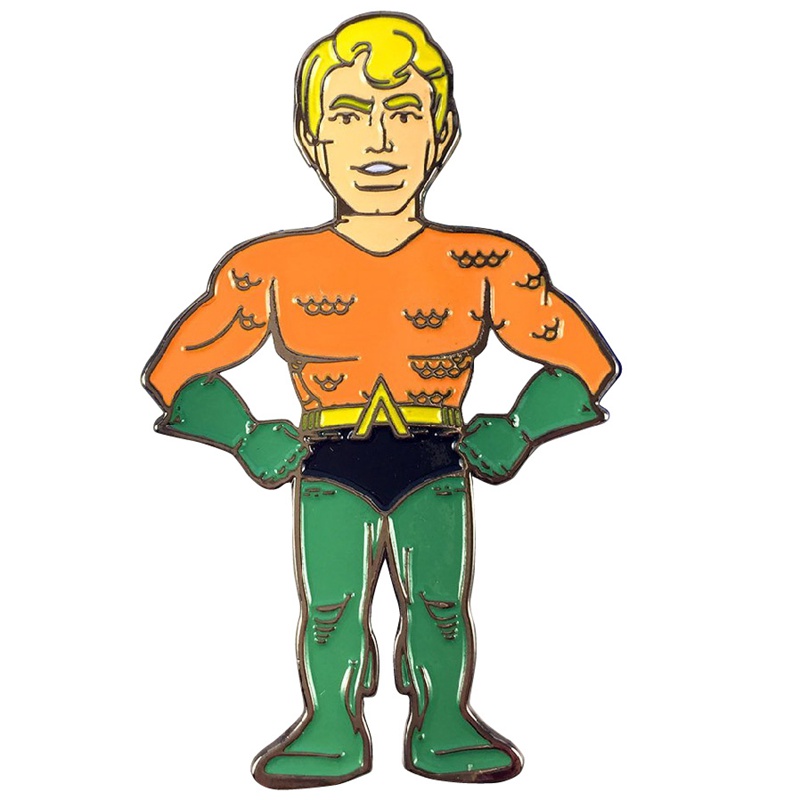 Here are the details:
1) Aquaman enamel pin
2) Zinc Alloy/Pewter Alloy
3) Size: 1.25" or custom size
4) Attachment: Rubbers or butterfly clutch
5) Production process: Die casting-polishing-black metal plating-soft enamel
6) Minimum order: No Minimum (No MOQ)
7) Sampling time: 7 days
8) Delivery time: 10-15 days for 100-5000pcs
9) Packaging: Each into a free poly bag
10)Payment Terms: PayPal,T/T or Western Union