Metal crafts contains many types: lapel pins, badge, challenge coins, keychain(key chain), bottle opener, medal(medallions), belt buckle, purse hanger,c ufflinks, book mark, ashtray, tie bar, pendant, dog tag, brooch, ring, earring and money clip. And all these products are can be made up with metal. Simple with iron, bronze, aluminium, complex with zinc alloy or tin plate.

Lapel pin is the most common one in it. Badge is similar as lapel pin in China, not with the attachment of butterfly clutch. Badge is used as police, army lapel pins called emblem. More bigger and weightter than lapel pin. So,lapel pin badge means the samll things wear on clothes.

This metal craft lapel pin badge made up with stainless iron.No plating on surface,and color or design is printing directly.Epoxy with final craftmanship to protect not dirty or scratch.It's shape of rectangle,words of "Lithofin",small but catch your eyes.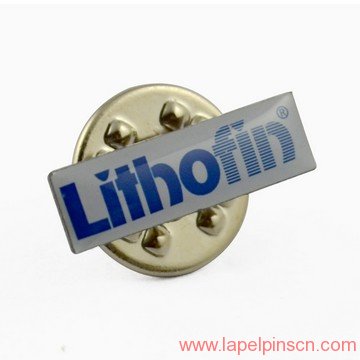 Below is the detailed specification:
1) Metal craft lapel pin badge
2) Material: Stainless Iron
3) Size: 25x10m m or custom size
4) Attachment: Butterfly clutch
5) Production process: Offset printing pin
6) Minimum order: No MOQ
7) Sampling time: 7 days
8) Delivery time: 8-15 days for 100-10000 pcs
9) Packaging: Each into a free poly bag
10)Payment Terms: T/T,Western Union,Paypal