Companies are have there employees,and it will take some recognition tools when working.Thinking one small and lovely pin,would you more happy when you see it?Big company will using this,some with ID carder,badge or employee recognition lapel pin.More easy and convenient.That's the unique enterprise culture in your corporation.

Photo etched,printing,die struck lapel pin will use in it.Saving time and making more quickly,change for short time when wear one or two years.Important cheaper,not regrettable when you lose them.Also,you can browse recognition lapel pin.

This pin made with stainless iron.No plating,and printing directly.Epoxy on surface to protect it not scuffing.Keep it for long time.Design of one round with big green "C" on left.Next to is "Afb" color of blue.Background is white.Simple but beauty.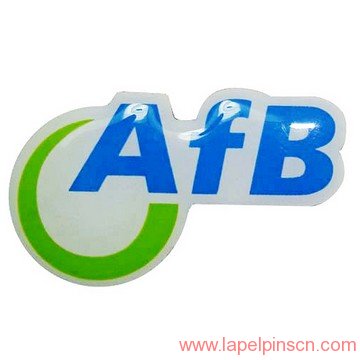 Below is the detailed specification:
1) Employee recognition lapel pin
2) Material: Stainless iron
3) Size:1" x 1" or custom size
4) Attachment: Butterfly clutch
5) Production process: Offset printing-cut-epoxy
6) Minimum order: No MOQ
7) Sampling time: 7 days
8) Delivery time: 8-10 days for 100-500 pcs
9) Packaging: Each into a free OPP bag
10)Payment Terms: T/T, Western Union, Paypal