Bolivia full the name Plurinational State of Bolivia, named of an outstanding leader in the American War of Independence, Simon Bolivar, is a landlocked country in South America. Neighboring countries of Brazil (Brazil lapel pins), Peru, Chile, Argentina, Paraguay, the statutory capital of Sucre, but the actual seat of government of La Paz National Day: August 6, 1825, the official language: Spanish.

Bolivia the flag was a rectangular shape, length and width ratio of 3:2. Top-down by the red, yellow, green three equal parallel horizontal rectangular form, the yellow part of the central emblem. Original meaning: red symbolizes lives for our country, the yellow represents the future and hope, the green symbol of sacred land. The three colors represent the country's main resources: red for animals, yellow represents the mineral, green represents the plant. General occasions with the national flag with the national emblem.

This Bolivia flag pin is gold plating, three soft enamel colors and epoxy on top. one small logo in the center, may be the national emblem. Take this pin to express your love to Bolivia. Show your miss and loyal is the best way. Quality making with lapel pins manufacturer with pretty price. Here is more Latin America pins: Uruguay Flag Pins, Colombia Flag Pins and Ecuador Flag Pins.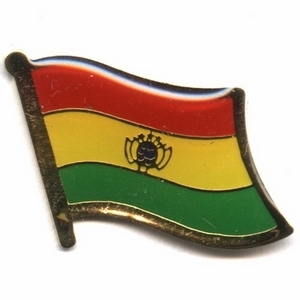 Below is the detailed specification:
1) Bolivia flag pins
2) Material: Iron/bronze
3) Size: 1"x1" or custom size
4) Attachment: Butterfly clutch
5) Production process: Stamping-enamel
6) Minimum order: No MOQ
7) Sampling time: 7 days
8) Delivery time: 7-18 days for 100-10000pcs
9) Packaging: Each into a free poly bag
10)Payment Terms: T/T, Western Union, Paypal