Columbia full name The Republic of Colombia, in South America northwest, west by the Pacific Ocean, north of the Caribbean. Spanish is the national language, the capital Bogota, major cities: Cali, Medellin, Arauca, Barranquilla. National Day: July 20, 1810, the national anthem: "Oh! Faded glory, Currency: pesos.

Colombia flag was rectangular, the length and width ratio of about 3:2. Connected from top to bottom by three parallel horizontal rectangles in yellow, blue, red, yellow part accounted for half of the flag, blue, red each face of the flag 1/4 yellow symbol of the golden sun, grain and rich natural resources; blue represents the blue sky, seas and rivers; shed the blood of the red symbol of patriots to fight for national independence and national liberation.

Below Colombia flag pin is a little different with flag. One national emblem in the center, eagle(eagle pins) stand on top, gold plating also one soft enamel pins. Other parts are very simple, just less design and color. But it's a unique flag lapel pin absolutely. Difference with other American flag pin, like: USA lapel pins, Mexico flag pins and Canada flag pin.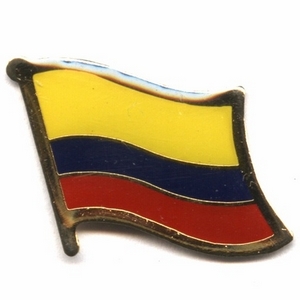 Below is the detailed specification:
1) Colombia flag pins
2) Material: Iron/Bronze
3) Size: 1"x1" or custom size
4) Attachment: Butterfly clutch
5) Production process: Stamping-punching-enamel
6) Minimum order: No MOQ
7) Sampling time: 7 days
8) Delivery time: 7-18 days for 100-10000pcs
9) Packaging: Each into a free poly bag
10)Payment Terms: T/T, Western Union, Paypal