Ecuador full name The Republic of Ecuador, become a Spanish colony in 1532. Declaration of independence on August 10, 1809, to rid itself of Spanish colonial rule in 1822. In 1825 take part in the Republic of Colombia. After the disintegration of the 1830 Greater Colombia, announced the establishment of the Republic of Ecuador. The official language: Spanish, Capital: Quito, major cities: Guayaquil, Cuenca, National Day: August 10, 1809, the national anthem: "Fatherland, we salute you".

Ecuador flag rectangle, length and width ratio of 2:1. Face of the flag is composed of three rectangles connected by yellow and blue red. The yellow of the flag 1/2, 1/4 each red and blue. Central painted emblem. Yellow symbol of national wealth, sun and food; blue symbolizes the sky, ocean and magnificent of the Amazon; Red symbolizes the blood of patriots fighting for freedom and justice.

This Ecuador flag pin is nearly the same as Colombia flag pin, only one more national emblem in the center. Three color flag pins, we can see the Mexico flag pins and German flag pins. Thwartwise or vertically, that's the major design with most countries flag. Color can be made with hard enamel (high quality and same lever as metal), and color printing pins.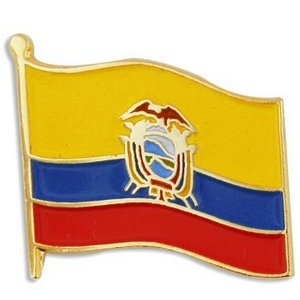 Below is the detailed specification:
1) Ecuador flag pin
2) Material: Iron/bronze
3) Size: 1"x1" or custom size
4) Attachment: Butterfly clutch
5) Production process: Stamping-enamel
6) Minimum order: No MOQ
7) Sampling time: 7 days
8) Delivery time: 7-18 days for 100-10000pcs
9) Packaging: Each into a free poly bag
10)Payment Terms: T/T, Western Union, Paypal