Uruguay full name The Oriental Republic of Uruguay, South America southeast, the east coast of the Uruguay River and the Rio de la Plata, north of Brazil (Brazil lapel pins), west Argentina, the South East by the Atlantic Ocean. Uruguay because of the beautiful natural scenery and a stable social environment, it is known as the "South American Switzerland"; because of the shape of precious stones and rich amethyst stone, known as the "diamond country". Capital: Montevideo, major cities: Montevideo, Salto, National Day: August 25, the national anthem: Uruguay national anthem, the official language: Spanish.
Uruguay flag was rectangular, the length and width ratio of 3:2. Five white of equal width wide and four blue wide stripes to constitute the upper left corner of the flag of a white square, there are a "May the sun. Uruguay history, a country with Argentina, so the flags of both countries have a blue, white and "May the sun"; nine wide representatives was composed of nine political regions of the Republic; eight straight and eight wavy light of the sun radiation. it symbolizes the country's independence.
This Uruguay flag pin is the best way to love your country. And you are support and loyalty of Uruguay. Take this on national day is proud. Sun on top left, gold plating and epoxy. Not easy to ruined or damaged. Handmade enamel pins as Colombia flag pins or Mexico flag pins.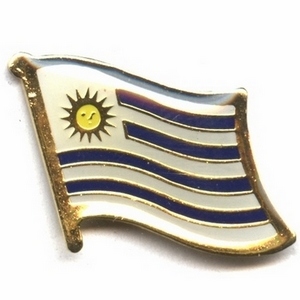 Below is the detailed specification:
1) Uruguay flag pins
2) Material: Iron/bronze
3) Size: 1"x1" or custom size
4) Attachment: Butterfly clutch
5) Production process: Stamping-enamel
6) Minimum order: No MOQ
7) Sampling time: 7 days
8) Delivery time: 7-18 days for 100-10000pcs
9) Packaging: Each into a free poly bag
10)Payment Terms: T/T, Western Union, Paypal