Brazil full name of The Federative Republic of Brazil is Latin America's largest country, also in the South America area. Brazil has a vast expanse of farmland and vast rainforest, the population and area are fifth ranks in the world. The official language is Portuguese, football is the mainstream of Brazilian cultural life. The capital Brasilia, National Day September 7, 1822, the national anthem is Hino Nacional Brasileilo.
Flag green rectangular central yellow diamond, diamond-shaped central dark blue circular celestial globe. Round white ribbon, the book to the Portuguese "order and progress". Circle on a white five-pointed star, symbol of the country's 26 administrative districts, and the location of those stars is at 8:50 on the November 15, 1889, the day of the new government, Rio de Janeiro, the stars arranged in the position (the capital of Brazil was originally Rio de Janeiro, and later moved to Brasilia). The green and yellow of Brazil's national colors, green symbol of the forest, the yellow symbol of minerals and resources.
This Brazil flag pin design by the flag, a little bend and unique. Whole color is green, gold plating as usual. Wear it when big meeting or festival will be pround of Brazilians. Wish every Brazilian have this patriotic lapel pin. Related flag pins is Mexico flag pins, German flag pins and USA pins.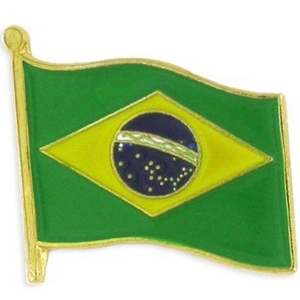 Below is the detailed specification:
1) Brazil flag pins
2) Material: Iron/Bronze
3) Size: 18x18mm or custom size
4) Attachment: Butterfly clutch
5) Production process: Stamping-plated-enamel
6) Minimum order: No MOQ
7) Sampling time: 7 days
8) Delivery time: 7-18 days for 100-10000pcs
9) Packaging: Each into a free poly bag
10)Payment Terms: T/T, Western Union, Paypal