Firefighters (historically, firemen) are rescuers extensively trained primarily to put out hazardous fires that threaten civilian populations and property, to rescue people from car incidents, collapsed and burning buildings and other such situations.Firefighting and firefighters have become ubiquitous around the world, wildland areas to urban areas, and on board ships.

Answering duty's call at any hour of the day or night, these brave individuals put everything on the line to get the job done. Their boundless courage and commitment to saving lives is a testament to the honor of their profession.This coin pays tribute to America's firefighters for their outstanding skill and devotion to duty in the service of our nation's towns and cities from coast to coast. It's the same as navy challeng coin is a encouraging challenge coin.
This firefighter challenge coin is made of zinc alloy, plating with anti-gold, craftmanship of soft enamel.Two side design,red background of all.And american falg on front.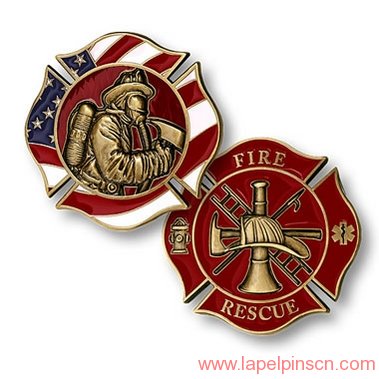 Below is the infomation:
1) Fire fighter challenge coins
2) Material: Iron/ bronze
3) Size: Diameter 1 3/4" or custom size
4) Plating color: Gold
5) Production process: Stamping-plating-enamel
6) Minimum order: No MOQ
7) Sampling time: 9 days
8) Delivery time: 9-15 days for 100-5000 pcs
9) Packaging: Each into a free poly bag
10)Payment Terms: T/T, Western Union, Paypal