Here is the Netherlands flag pins making for you. Gold plating with well polishing, enamel process and epoxy with handmade. The best things to loyal your country and patriotic. Put on your hat, clothes or articles for daily use. The similar flag lapel pins are: UK flag pins, France flag pins and Italy flag pins.

Netherlands full name is The Kingdom of Netherlands, located in northwestern Europe, the total land area of 41,864 square kilometers, border are the North Sea, Germany (Germany flag pins), Belgium (Belgium flag pins). The Netherlands is famous for its dikes, windmills and social climate of tolerance. The Netherlands is the world's first same-sex marriage and the legalization of euthanasia. Capital: Amsterdam, the major cities: Rotterdam, The Hague, National Day: April 30 June.

The Dutch flag was rectangular, the length and width ratio of 3:2. Top-down parallel to the red, white, and blue three equal horizontal rectangles connected from. Blue said that the country faces the ocean, symbol of the happiness of the people; white symbolizes liberty, equality, democracy, and also painted in white in the middle of the eight kidney, can be described as the symbol of the invisible own bar meaning. Also on behalf of the people of the simplicity of character; red represents the victory of the revolution.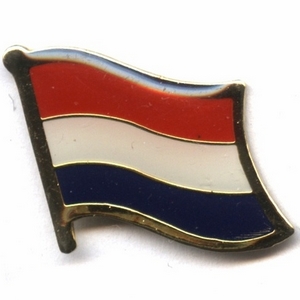 Below is the detailed specification:
1) Netherlands flag pins
2) Material: Iron/Bronze
3) Size: 1" or custom size
4) Attachment: Butterfly clutch
5) Production process: Stamping-plated-epoxy
6) Minimum order: 1 piece
7) Sampling time: 7 days
8) Delivery time: 10-18 days for 1000-5000pcs
9) Packaging: Each into a free poly bag
10)Payment Terms: T/T, Western Union, Paypal