Austria is The Republic of Austria, located in the middle of Europe, north Germany (Germany flag pins), the Czech Republic, East and Slovakia, and Hungary (Hungary flag pins), adjacent to the south and bordering Slovenia, Italy, western Switzerland and Liechtenstein. The capital and chief city is Vienna. Major Cities: Innsbruck, Salzburg, National Day: October 26, 1955, the national anthem: "Let's pull up the hand," State bird: swallow, the official language: German.

Austrian flag was rectangular, the length and width ratio of 3:2. Formed from top to bottom by a horizontal rectangle of red, white, red, three parallel connected, the flag of the center is the emblem of Austria. This flag's origins can be traced back to Austria during the Grand Duchy in 1919 for the Austrian national flag. The Austrian government agencies, ministers, presidents and official representatives, and government institutions abroad with the national emblem flag, ordinary occasions without the national flag with the national emblem. Austria national emblem of an eagle. Black eagle head plumage and golden crowns, two claws holding a golden hammer and sickle to shield the surface of the chest as the national flag pattern, talons on the sets of chains have to be interrupted. The eagle is a symbol of Austria's bi-shaped nationals of Golden Delicious symbol, sickle and hammer symbol of the agro-industrial chain has been interrupted by a symbol of the Austrian People for freedom and liberation.

Have you had the Austria flag pins? You need order one if you haven't. As a Austrian, take one pin on holiday, festival or national day is needed. It's the best chance to be patriotic and loyal. Other Euro country flag pins is: UK flag pins, Italy flag pins and French flag pins. Here we made many kinds of World flag lapel pins. Wish can producing for you in the near future.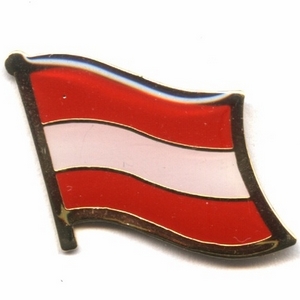 Below is the detailed specification:
1) Austria flag pins
2) Material: Iron/bronze
3) Size: 1x1" or custom size
4) Attachment: Butterfly clutch
5) Production process: Stamping-plated-enamel
6) Minimum order: No MOQ
7) Sampling time: 7 days
8) Delivery time: 10-18 days for 1000-5000pcs
9) Packaging: Each into a free poly bag
10)Payment Terms: T/T, Western Union, Paypal