How's your country flag used? In the government building, meeting table or your house? These flag are flying, soft and nearly fixed. You can see it in the sky or anywhere, but do you want to keep it in your hand or pocket? Here is the Romania flag pins: same color of flag with enamel color and metal edge gold plating. The best way to loyal your country. Similar pins are: Italian Flag Pins, France Flag Pins and German flag pins.
Romania is the Eastern & Southern European countries. Romania west side of the border with Hungary (Hungary flag pins) and Serbia respectively, south of Bulgaria, the north and northeast is bordered by Ukraine (Ukraine flag pins) and Moldova. Blue Danube, the Carpathians and the Black Sea are three treasures in Romania. Capital: Bucharest is the country's economic, cultural and transportation center. Major cities: Bucharest, Brasov, Constanta, National Day: December 1, 1918, the national anthem: "Wake up, Romanians".
Romania flag was rectangular, the length and width ratio of 3:2. Composed by three parallel vertical rectangular, blue, yellow, and red from left to right. Blue symbolizes the blue sky, yellow symbol of the rich natural resources, the red symbolizes the people's courage and spirit of sacrifice. Romania national emblem, coat of arms. Big blue shield surface, a Golden Eagle Red-billed red claws and the olecranon pecking an Orthodox cross, the two claws holding a silver (silver lapel pins) and a silver scepter.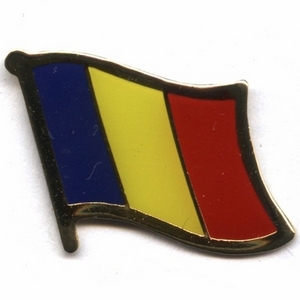 Below is the detailed specification:
1) Romania flag pins
2) Material: Iron/bronze
3) Size: 1" or custom size
4) Attachment: Butterfly clutch
5) Production process: Stamping-plated-enamel
6) Minimum order: 1 piece
7) Sampling time: 7 days
8) Delivery time: 10-18 days for 1000-5000pcs
9) Packaging: Each into a free poly bag
10)Payment Terms: T/T, Western Union, Paypal