The Republic of Latvia (Latvian: Latvijas Republika) is a country in northeastern Europe. One of the Former Soviet republics, independent in 1991. West of the Baltic Sea, with its northern Estonia (Estonia flag pins) and Lithuania in its southern collectively referred to as the three Baltic countries. Oriental adjacent to Russia (Russia flag pins), Belarus. Capital: Riga, major cities: Daugava Pierce, Liepaja. According to the latest statistics, Latvia is the most lack countries of male in the world.
Latvian flag is a horizontal rectangle, the length and width ratio of about 2:1. Top-down by the red, white, red three parallel cross wide bar. The red is actually a dark red, used to call international "Latvia red". Dark red Acura Latvia in order Zuguo Yong Piganlidan shed blood of patriotism, white to express the Latvian people yearning for peace, tranquility and desire.
Here is the special Latvia flag pin: gold plating and flowing flag shape. Same design as many flag pins, gold plating and soft enamel technology. Nice polishing crafts with pretty price, please contact us if you want to make the loyal pins with your country. Some Europe pins: Iceland flag pin, Ukraine flag pin and France flag pins.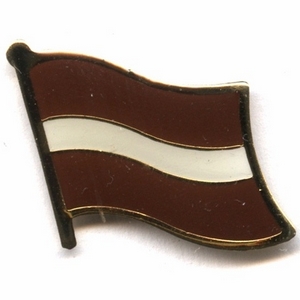 Below is the detail:
1) Latvia flag pins
2) Material: Iron/Bronze
3) Size: 1" or custom size
4) Attachment: Butterfly clutch
5) Production process: Die struck-cutting-enamel
6) Minimum order: 1 piece
7) Sampling time: 7 days
8) Delivery time: 10-15 days for 1000-5000pcs
9) Packaging: Each into a free oppbag
10)Payment Terms: T/T, Western Union, Paypal