Estonia full name The Republic of Estonia is one of the three Baltic states Eastern Europe. West to the Baltic Sea and North to the Gulf of Finland (Finland flag pin), south and east of the border with Latvia and Russia (Russia flag pins), respectively. Beautiful country of Estonia, known as surrounded by the sea. Here, sunrise and sunset are rising from the sea falling. Capital: Tallinn, major cities: Tartu, Narva, National Day: 1918 February 24
Estonian flag is a horizontal rectangle, the length and width ratio of 11:7. The face of the flag by three parallel horizontal rectangle connected components, from top to bottom were blue, black, white, tri-color. Blue symbolizes the country's independence, sovereignty and territorial integrity; the black symbolizes wealth, a symbol of the country's fertile land and rich mineral resources; white symbolizes good fortune, freedom, bright and pure.
Here is the Estonia flag pin: bronze plating whole soft enamel pins. Three PMS color filled with handmade one by one. Stamping then polishing well, making with high quality. You will be looking nice when you wear this pretty pin. Other Europe pins: Portugal flag pins, Spain flag pins and Denmark flag pins.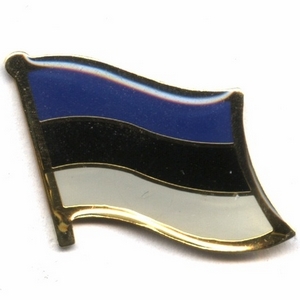 Below is the detail:
1) Estonia flag pins
2) Material: Iron/Bronze
3) Size: 1" or custom size
4) Attachment: Butterfly clutch
5) Production process: Die struck-cutting-enamel
6) Minimum order: 1 piece
7) Sampling time: 7 days
8) Delivery time: 10-15 days for 1000-5000pcs
9) Packaging: Each into a free oppbag
10)Payment Terms: T/T, Western Union, Paypal