Do you know Russia or Russian? The largest country in the world. Here is the Russian flag pins: three colors with soft enamel and epoxy on the top. Gold plating and polishing the edge and surface. Nice quality but reasonable price. French flag pins have the same color as Russia flag pins. More Euro pins: UK flag pins, Italian flag pins and Germany flag pins.
The Russian Federation, referred to as Russia or the Russian Federation, capitalist country and the largest nation on the earth. Geographic across two continents of Europe and Asia, and borders with many countries like: Norway, Finland, Poland (Poland flag pins), Belarus, Ukraine (Ukraine flag pins), China, Mongolia. Capital: Moscow, major cities: St. Petersburg, Yekaterinburg, Russia's national flower is the sunflower. National Day: June 12, the national anthem: the Russian national anthem.
The flag of the Russian Federation, the traditional pan-Slavic colors, the composition of the flag consists of three parallel and equal horizontal rectangles, followed by white, blue, and red from top to bottom. Banner in white represent the frigid all year round snow and fog, on behalf of the sub-arctic blue, but also a symbol of Russia's rich underground mineral and forest, hydraulic and other natural resources, the red is a sign of the temperate zone, but also a symbol of Russian history long and human contribution to civilization. The arrangement of the three color shows the vast Russian link with. But on the other hand, white is a symbol of truth, the blue represents purity and loyalty, the red is a sign of good and brave.
1699 Peter the Great to the Netherlands to learn shipbuilding surgery, he realized the need for the Russian Navy design side flag. He therefore follow the example of the Dutch tricolor flag design, but the color is to elect the (then the Dutch flag was orange – white – and blue). Peter the Great was the selected color is red, white and blue, that is, the Pan-Slavic colors. May 7, 1883, this flag officially became the Russian national flag, the tricolor was canceled after the October 1917 revolution. August 21, 1991 this banner again be adopted as the flag of the independent Russian Federation.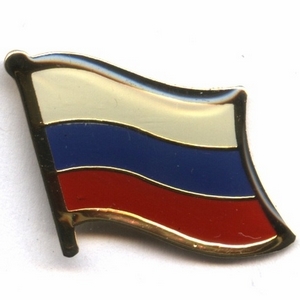 Below is the detailed specification:
1) Russia & Russian flag pins
2) Material: Iron/bronze
3) Size: 1" or custom size
4) Attachment: Butterfly clutch
5) Production process: Stamping-plated-enamel
6) Minimum order: No Minimum
7) Sampling time: 7 days
8) Delivery time: 10-18 days for 1000-5000pcs
9) Packaging: Each into a free poly bag
10)Payment Terms: T/T, Western Union, Paypal