Iceland is The Republic of Iceland, the Nordic countries, the West separated the Denmark Strait and the Greenland sea, east of the Norwegian Sea (Norway flag pins), north of the Greenland Sea, the southern boundary of the Atlantic. Reykjavik, capital of the world's highest latitude of the capital, major cities: Akureyri, FH Seoul National Day: June 17, 1944, the national anthem: "Millennium Song". The vast majority of Icelanders, is a Germanic tribe. 85.4% of the population is Christian Lutheran. Iceland is the world's hot springs than any other country, it is called "Country of Ice and Fire.
The Icelandic flag was adopted on June 17, 1944, accompanied by white and red cross design in blue background. Rectangular in shape, length and width ratio of 25:18. The flag is blue, red, and white cross (cross lapel pins) of the flag is divided into four: two equal blue square, two equal blue rectangle. Blue represents the sea, the white represents the snow. The blue and white national colors of Iceland. Red symbolizes fire. Because a large number of active volcanoes in Iceland. Volcano on the ice, it becomes white surrounded by red pattern. Cross pattern on the flag from the Danish flag pattern, because the possessions of Iceland, Norway since 1262, the 14th century by the Danish rule.
How's your country flag used? In the government building, meeting table or your house? These flag are flying, soft and nearly fixed. You can see it in the sky or anywhere, but do you want to keep it in your hand or pocket? Here is the Iceland flag pins: same color of flag with enamel color and metal edge gold (gold pins) plating. The best way to loyal your country. Similar pins are: United Kingdom Flag Pins, France Flag Pins and US flag pins.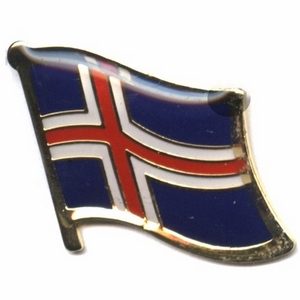 Below is the detailed specification:
1) Iceland flag pins
2) Material: Iron/bronze
3) Size: 1" or custom size
4) Attachment: Butterfly clutch
5) Production process: Stamping-plated-enamel
6) Minimum order: 1 piece
7) Sampling time: 7 days
8) Delivery time: 10-18 days for 1000-5000pcs
9) Packaging: Each into a free poly bag
10)Payment Terms: T/T, Western Union, Paypal