Iraq is located in southwest Asia, northeast of the Arabian Peninsula. Muslims account for about 95% of the population, the region where Iraq has been known in the history of Mesopotamia, the birthplace of human civilization, one of the main. Iraq's oil industry is the economic mainstay, crude oil reserves rank third in the world, behind Saudi Arabia and Iran.

March 20, 2003, United States and Britain to Iraqi weapons of mass destruction to launch the ground war in Iraq. April 9, captured Baghdad, Saddam Hussein's regime was overthrown. May 1, U.S. President announced the end of major combat in Iraq.And many US soldier attend this war, so many Iraq challenge coins are made for it. Also, it's popular for long time. Wish all the soldier are fine who take part in this war.

This Iraq challenge coin made of die struck iron, plating with anti-bronze. Color of soft enamel, big Iraq map in the center, and US map below. Two round edge, outside use some words of "KIRKUK AIR BASE,IRAQ" and "506TH EXPEDITIONARY SECURITY FORCES SQUADRON". Can be called air force challenge coins. By the way, we do not want any war in the world.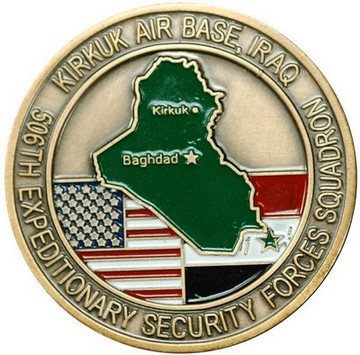 Below is the detailed specification:
1) Iraq challenge coin
2) Material: Iron
3) Size: Diameter 1 3/4 inch or custom size
4) Attachment: None
5) Production process: Stamping-plating-enamel
6) Minimum order: No MOQ
7) Sampling time: 7 days
8) Delivery time: 7-10 days for 500-1000 pcs
9) Packaging: Each into a free OPP bag
10)Payment Terms: T/T, Western Union, Paypal