Every country have the flag, here we introduce you the Ukraine flag pins: blue and yellow color with gold plating. Color filled with soft enamel, and add the epoxy on surface. Nice stamping metal line, polishing well with the edge. You need one as a Ukrainian, it's the best time to show your loyal and patriotic. Other similar flag pins are: UK flag pins, US flag pins and German flag pins.

Ukraine is THE REPUBLIC OF UKRAINE, in eastern Europe with a total area of 603,700 km2, the largest country of Europe except Russia. East Russia, south to the Black Sea, the North adjacent with Belarus, west connected with Poland (Poland flag pins), Slovakia, Hungary (Hungary flag pins), Romania and other countries. Capital: Kiev, major cities: Sevastopol, National Day: August 24, 1991, the national anthem: Ukraine is still human.

Ukrainian flag was rectangular, on blue, yellow two equal horizontal rectangles parallel composition, length and width ratio of 3:2. Ukraine had in 1917 the establishment of the Ukrainian Soviet Socialist Republic in 1922 to become one republics of the former Soviet Union since 1952, similar to the former Soviet Union flag, the red flag with five-pointed star and sickle, hammer pattern, only the lower face of the flag is blue color broadside. The 1991 declaration of independence in 1992 to restore Ukraine's independence, blue and yellow flag as the national flag.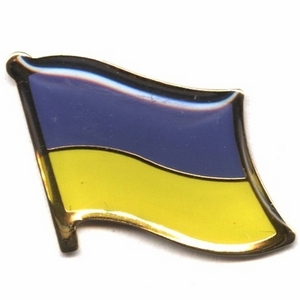 Below is the detailed specification:
1) Ukraine flag pins
2) Material: Iron/bronze
3) Size: 1" or custom size
4) Attachment: Butterfly clutch
5) Production process: Stamping-plated-enamel
6) Minimum order: No MOQ
7) Sampling time: 7 days
8) Delivery time: 10-18 days for 1000-5000pcs
9) Packaging: Each into a free poly bag
10)Payment Terms: T/T, Western Union, Paypal