Do you want to make Portugal flag pins? Here Lapel Pins CN is the nice manufacturer making for you. Nearly over 10 years experience on kinds of pins, like offset printing pins, trading pins and enamel pins. Having produce over 100 countries flag pins, like US flag pins, France flag pins and UK flag pins. Here is the Portugal one: gold plating and soft enamel color filled. Nice design and handmade.

Portugal is the Portuguese Republic, the Latin word for "warm port, located on the Iberian Peninsula in Europe, west and south Atlantic coast, the northern and eastern neighbor Spain (Spain flag pins). Capital Lisbon's West Rocca angle is the most western end of Europe. Major cities: Porto, Coimbra, Gaja Metro, National Day: June 10, the national anthem: "the Republic of Portugal national anthem". More than 97 percent of residents were Catholic.

The Portuguese flag was rectangular, the length and width ratio of 3:2. Face of the flag is composed of two parts by the left green right red, green part is a vertical rectangle, the red part of the nearly square area of ​​the green part and a half times. Red, green connection in the middle of painting the Portuguese national emblem. Red to celebrate the establishment of the Second Republic in 1910, Green said the tribute to Prince Henry, known as the "navigator".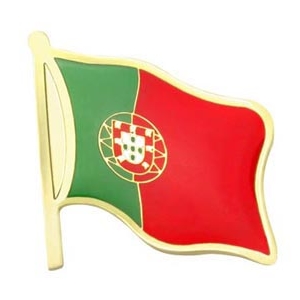 Below is the detailed specification:
1) Portugal flag pins
2) Material: Iron/Bronze
3) Size: 1" or custom size
4) Attachment: Butterfly clutch
5) Production process: Stamping-plated-enamel
6) Minimum order: 1 piece
7) Sampling time: 7 days
8) Delivery time: 10-18 days for 1000-5000pcs
9) Packaging: Each into a free poly bag
10)Payment Terms: T/T, Western Union, Paypal