Where can you find the Poland flag pins and when will you wear it? Here we making the pins for you with customized design, size and color. Nice quality and service but only 20% off price than other company. Take this flag pins on the big meeting, national day and festival is a good way. Also it's the time to loyal and faithful to Poland. And other Euro pins: United Kingdom flag pins, French flag pins and Italy flag pins.

Poland the full name of The Republic of Poland, is a Central European countries west of the border with Germany (Germany flag pin), south of the Czech Republic (Czech flag pins) and Slovakia, the eastern connected with Ukraine and Belarus, northeast and Lithuania and the Russian border, north of the Baltic Sea. Capital: Warsaw, major cities: Krakow, Lodz, Wroclaw, National Day: May 3 - Constitution Day November 11 - Independence Day, the national anthem: "Poland has not perished".

The Polish flag was horizontal rectangle, the length and width ratio of about 8:5. Constitute the face of the flag on the white red two parallel equal horizontal rectangles. White is not only a symbol of ancient legend of the White Eagle (eagle pins), but also a symbol of purity, to express the good wishes of the Polish People's desire for freedom, peace, democracy, and happiness; red symbolizes the blood, symbolizes the victory of the revolutionary struggle. Polish national emblem, coat of arms. The red shield surface decorated with a head plumage and golden crowns, stretch the wings of the White Eagle. The red and white Polish people love the traditional colors, national flag colors. White Eagle symbol of the indomitable spirit of patriotism of the Polish people.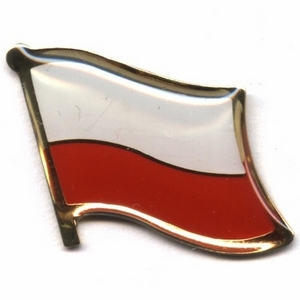 Below is the detailed specification:
1) Poland flag pins
2) Material: Iron/bronze
3) Size: 1" or custom size
4) Attachment: Butterfly clutch
5) Production process: Stamping-plated-enamel
6) Minimum order: No MOQ
7) Sampling time: 7 days
8) Delivery time: 10-18 days for 1000-5000pcs
9) Packaging: Each into a free poly bag
10)Payment Terms: T/T, Western Union, Paypal