Czech is the abbreviation of the Czech Republic, landlocked countries in Central Europe, formerly Czechoslovakia. East Slovakia, south of Austria (Austria flag pins), adjacent north of Poland, West is Germany (Germany flag pins), an area of 78,866 square kilometers. Capital: Prague, the city: Plzen, Brno, Esi Tel, National Day: October 28, the national flower: Rose, the national anthem: where is My hometown, official language: Czech.
Czech flag was rectangular, the length and width ratio of 3:2. Consists of blue, white, and red. The left blue isosceles triangle. The right is equal to two trapezoidal, white under the red. The blue, white, and red is like traditional color of the Slavic peoples. Czech hometown of the ancient Kingdom of Bohemia, the kingdom of red and white national colors, including white represents the sanctity and purity, symbolizing the people of the pursuit of peace and light; red symbolizes courage and to overcome problems spirit, a symbol of dedication to the people for national independence and liberation and the prosperity of the blood and victory. Blue from the color of the original Moravia and Slovakia Province badge.
Do you have the beautiful Czech Republic flag pins? Here is the one: soft enamel color filled process, gold plating and epoxy. Use best quality material of bronze, so nice and good. I thought many person will take this pin when shopping, take activity or international meeting. It's the symbol of Czech Republic or you love Czech. Be loyal and patriotic to your motherland. It's the best way to express. Similar Euro pins: French flag pins and UK flag pins.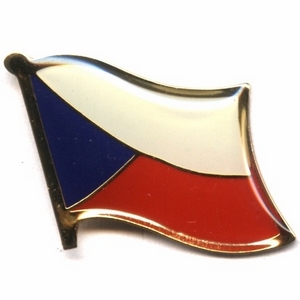 Below is the detailed specification:
1) Czech Republic flag pins
2) Material: Iron/bronze
3) Size: 1" or custom size
4) Attachment: Butterfly clutch
5) Production process: Stamping-plated-enamel
6) Minimum order: No MOQ
7) Sampling time: 7 days
8) Delivery time: 10-18 days for 1000-5000pcs
9) Packaging: Each into a free poly bag
10)Payment Terms: T/T, Western Union, Paypal