Italy is The Republic of Italy, located in southern Europe, mainly by the Apennine Peninsula and the Big Island of Sicily and Sardinia in the Mediterranean. Italy in the Alps region of the northern border with France (France flag pins), Switzerland, Austria and Slovenia. The capital is located in Rome; Milan is the fashion capital of the world; Turin is Italy industrial. Italy is a highly developed democracies of the Republic, especially also the cradle of European ethnic and cultural services, tourism and foreign trade. National Day: June 2, 1946, the national anthem: The Song of Mameli Official language: Italian.

The Italian flag was rectangular, the length and width ratio of 3:2. The flag is connected to three parallel vertical rectangular form, from left to right three colors green, white, red. The original color of the flag of Italy and the French flag, in 1796 only then blue to green. It is recorded that in 1796 Napoleon's Italian Legion in the campaign have been used by Napoleon's design green, white, and red tricolor flag. 1946 of the Italian Republic, the formal requirements of the green, white, red tricolor flag of the Republic.

And here is the Italy flag pins, marked three soft enamel colors. Silver plating with metal and lines, epoxy on the top. Nice stamping shape and polishing craftmanship. Related Euro pins are: German flag pins, United Kingdom flag pins and France & French Flag Pins. I think wear a flag lapel pin is also the fashion thing, it will never be out of style.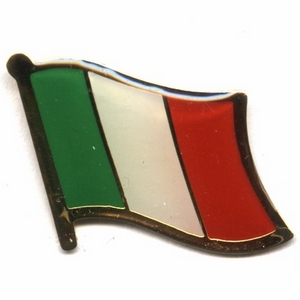 Below is the detailed specification:
1) Italy & Italian flag pins
2) Material: Iron/bronze
3) Size: 1x1" or custom size
4) Attachment: Butterfly clutch
5) Production process: Stamping-plated
6) Minimum order: No MOQ
7) Sampling time: 7 days
8) Delivery time: 10-18 days for 1000-5000pcs
9) Packaging: Each into a free poly bag
10)Payment Terms: T/T, Western Union, Paypal