Greece full name of The Hellenic Republic, area of ​​131,957 square kilometers, 15% are islands, located in southeastern Europe, Balkans, the southern tip. Greek known as the birthplace of Western civilization, the birthplace of the Olympic movement has a long history, capital of Athens. National anthem, "Freedom Song", the longest national anthem in the world lyrics. Independence Day, National Day: March 25 (1821).

Greece flag by four white bars and five blue and white. Rely on the cover of the staff side of the top of a blue square, painted white cross. Blue and nine wide, said the Greek motto: "better to die free". Greece, the dictum that a total of nine syllables. Flag of the surface of the blue symbolizes the Christian faith.

This Greek flag pin used brass stamping, filled soft enamel color. A little wry with the flag. When you want to be patriotic or take it on national day, it will be proud. Love our state is significant things. Also there are many European flag pins, like: German flag pins, UK flag pins and Hungary flag pin.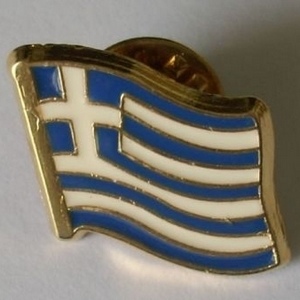 Below is the detailed specification:
1) Greece lapel pins / Greek flag pins
2) Material: Iron/bronze
3) Size: 25x20mm or custom size
4) Attachment: Butterfly clutch
5) Production process: Stamping-gold plating-enamel
6) Minimum order: No MOQ
7) Sampling time: 7 days
8) Delivery time: 8-15 days for 100-10000pcs
9) Packaging: Each into a free poly bag
10)Payment Terms: T/T, Western Union, Paypal