Finland is The Republic of Finland (Finnish: the Suomen Tasavallan). Located in northern Europe, is Europe's seventh largest country, which borders with Sweden (Sweden flag pins), Norway (Norway flag pins), Russia (Russia flag pins), south of the Gulf of Finland, the west by the Gulf of Bothnia, the "country of thousand lakes/island". Capital: Helsinki, major cities: Turku, Espoo, National Day: December 6, 1917, the national anthem: "the motherland".

Finland flag called "Blue Cross" flag (Finnish: Siniristilippu), officially in May 1818 for the state of the public flag. "Rectangle, the length and width ratio of 18:11. Flag background is white. The left side of cross blue wide face of the flag is divided into four white rectangular Finland, Finland " country of thousand lakes "with blue on the flag a symbol of lakes, rivers and oceans; the other a symbol of blue sky blue and white flag also a symbol of Finnish 19th century, the Czar of Russia Grand Duchy of Finland flag reflects and Sweden and Scandinavia, the Scandinavian countries. One third of the Finland territory inside the Arctic Circle, the weather is cold, the white symbol on the flag of the land covered with snow.

When you are a Finnic & Finnish, would you want to express your loyal or love to your country Sweden? Especially in the national day or big festival, how to do this? Take and wear one Finland flag pin is a nice way. Here it is: same color filled with soft enamel handmade, metal with gold plating and resin on surface. Nice quality and responsible price. Same patriotic lapel pins are: USA lapel pins and UK flag pins.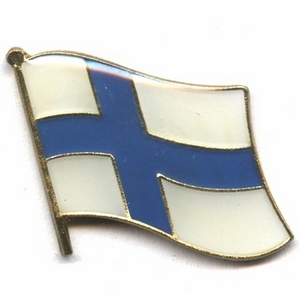 Below is the detailed specification:
1) Finland flag pins
2) Material: Iron/bronze
3) Size: 1" or custom size
4) Attachment: Butterfly clutch
5) Production process: Stamping-plated-enamel
6) Minimum order: 1 piece
7) Sampling time: 7 days
8) Delivery time: 10-18 days for 1000-5000pcs
9) Packaging: Each into a free poly bag
10)Payment Terms: T/T, Western Union, Paypal