When you are a Swedish, would you want to express your loyal or love to your country Sweden? Especially in the national day or big festival, how to do this? Take and wear one Sweden flag pin is a nice way. Here it is: same color filled with soft enamel handmade, metal with gold plating and resin on surface. Nice quality and responsible price. Same flag pins are: Ireland Flag Pins, Ukraine Flag Pins and Mexico flag pins.
Sweden is The Kingdom of Sweden, in Scandinavia the southeastern part of the peninsula, an area of ​​about 450,000 square kilometers, is the largest country in Northern Europe. Sweden is a highly developed and advanced country, people enjoy a high standard of quality of life. In the 20th century, Sweden had been formed in a welfare state (state lapel pins). Sweden today is regarded as socially liberal tendencies, and aggressively pursue the equality of the modern welfare society. Capital: Stockholm, major cities: Stockholm, Gothenburg, Malmo, National Day: June 6th .
Swedish flag: blue, yellow (yellow ribbon lapel pin) cross (cross lapel pins) slightly to the left. Blue, yellow color from the color of the imperial emblem of Sweden, used as Swedish colours at least since king Magnus Birgersson's royal coat of arms of 1275. Similar design as Norway Flag Pins. Sweden flag a Scandinavian cross that extends to the edges of the flag. This Scandinavian cross represents Christianity. The design and colours are believed to have been inspired by the present Coat of arms of Sweden of 1442, which is blue divided quarterly by a cross pattée of gold (gold pins), and modelled on the Danish flag.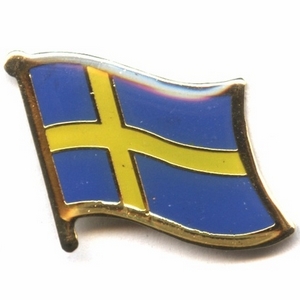 Below is the detailed specification:
1) Sweden flag pins
2) Material: Iron/bronze
3) Size: 1" or custom size
4) Attachment: Butterfly clutch
5) Production process: Stamping-plated-enamel
6) Minimum order: 1 piece
7) Sampling time: 7 days
8) Delivery time: 10-18 days for 1000-5000pcs
9) Packaging: Each into a free poly bag
10)Payment Terms: T/T, Western Union, Paypal