Here we introduce another country's people over one hundred million: Bangladesh, also the Bangladesh flag pin. Stamping pins with soft enamel procee, gold plaitng. Polishing with every edge and make the strong clutch in lapel pins backs. Here we know: China, India, America, Indonesia, Brazil (Brazil lapel pins), Pakistan, Russia (Russia flag pins), Bengal, Japan, Mexico (Mexico lapel pins) and Nigeria are more than 100 million. And Iran Flag Pins and India flag pins are belong to Asia.

Bangla full name is People's Republic of Bangladesh, one of South Asian countries, located in the north of the Bay of Bengal, southeast Myanmar, all other things connected with India, jute is the most important economic export crops. Capital: Dhaka, major cities: Chittagong, Khulna, Rajshahi, National Day: 1971 March 26, official languages​​: English.

Bangladesh flag background is dark green, a symbol of the motherland, in the middle of a red circle round, a symbol of the rising sun and the freedom fighters sacrificed for the Bangladesh War of Independence. Bangladesh national emblem of the middle of the national flower of water lily, spend a few wavy lines, on behalf of waterways and ports of national importance, on both sides by rice garlands and the top of the clover yellow symbol of the country the most important agricultural crops, the top uniform the arrangement of the four five-pointed star symbol of the great social and economic aspirations.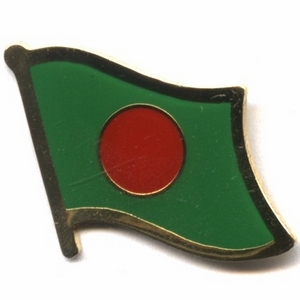 Below is the detailed specification:
1) Bangladesh flag pins
2) Material: Iron/Bronze
3) Size: 1" or custom size
4) Attachment: Butterfly clutch
5) Production process: Die struck-enamel-epoxy
6) Minimum order: 1 piece
7) Sampling time: 7 days
8) Delivery time: 10-15 days for 1000-5000pcs
9) Packaging: Each into a free poly bag
10)Payment Terms: T/T, Western Union, Paypal