Haiti name The Republic of Haiti, is located in the northern Caribbean, in Indian meaning "mountainous place, one of island nation in the Caribbean. Blacks accounted for 95% of the country, so called "black republic". Residents are Catholic (Catholic pins). The official language is French (French flag pins) and Creole, 90% of residents use Creole. The capital of Port-au-Prince. It is the world's first independent black nation. Major cities: Port-de-Paix, Gonaives. National Day: January 1, Independence Day: 1804 January 1.

The Haitian flag rectangular, long and wide ratio of 5:3. By the equivalent of two parallel horizontal rectangle on blue under red. The center of the face of the flag is a white rectangle, which painted with the national emblem. The colors of the Haitian flag from the French flag. Inlaid national emblem of the flag is the official flag.

Here is the Haiti flag pins: gold plating whole soft enamel pins. Four PMS color (white, green, red and blue) filled with handmade one by one. Stamping then polishing well, making with high quality. You will be looking nice when you wear this pretty pin. Other similar pins: Finland Flag Pins, Sweden Flag Pins, Norway Flag Pins.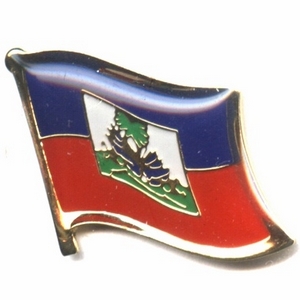 Below is the detail:
1) Haiti flag lapel pins
2) Material: Iron/Bronze
3) Size: 1" or custom size
4) Attachment: Butterfly clutch or safety clip
5) Production process: Die struck-enamel
6) Minimum order: 1 piece
7) Sampling time: 7 days
8) Delivery time: 10-15 days for 1000-5000pcs
9) Packaging: Each into a free PVC bag
10)Payment Terms: T/T, Western Union, Paypal