Angola full name The Republic of Angola, located in the southwest of Africa, the capital Luanda, the West coast of the Atlantic Ocean, North and Northeast neighbor Congo, the south of Namibia, southeast neighbor Zambia. It's called "Africa's Brazil (Brazil flag pin)" as the former possessions of Portugal (Portugal flag pin). Major cities: Cabinda, Huambo, Benguela, National Day: 1975. Official language: Portuguese.

Angola flag is rectangular, long and wide ratio of 3:2. Background color is constitute of two parallel rectangular top red and bottom black. The middle of the flag is the golden arc intersect gear and machetes. Between arc gear and machetes, a gold star (star lapel pin). Black is a tribute to the African continent; red for the blood of the martyrs of the struggle with the colonists. The pentacle said internationalist and progressive causes, five cents a symbol of unity, freedom, justice, democracy and progress. A symbol of the unity of the workers and peasants, laborers and army gear and machetes, and said that the armed struggle in the early years together farmers and soldiers memorial.

Do you want to serve your great Angola, to honor your energy and life? Take this nice Angola flag pin to respect your homeland and join the government job. It's made as stamping, soft enamel technology. Epoxy on surface to protect the pin, gold plating and pretty polishing. Other Africa pin: Egypt flag pins and Nigeria flag pin.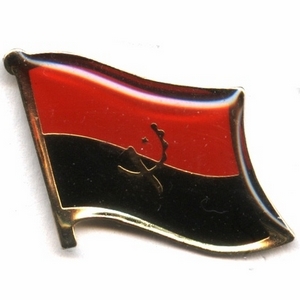 Below is the detail:
1) Angola flag pins
2) Material: Iron/Bronze
3) Size: 1" or custom size
4) Attachment: Butterfly clutch or safety clip
5) Production process: Die struck-enamel
6) Minimum order: 1 piece
7) Sampling time: 7 days
8) Delivery time: 10-15 days for 1000-5000pcs
9) Packaging: Each into a free oppbag
10)Payment Terms: T/T, Western Union, Paypal