Egypt the full name of the Arab Republic of Egypt, across Asia and Africa, most of which are in northeast Africa. Mainly Arabs, Islam, the official language is Arabic, the capital city of Cairo. Major cities: Suez, Alexandria National Day: July 23, national anthem: "the motherland, the motherland, the motherland." Well-known institutions of higher learning: Cairo University.
The Egyptian flag is rectangular, long and wide ratio of 3:2. Top-down by the red, white, black three parallel horizontal rectangle composed of the white part of the national emblem in the middle. The red symbolizes the revolution, white symbolizes purity and bright future, black symbolizes the dark days of the Egyptian past. Egyptian national emblem is a golden eagle (eagle pins), eagle chest coat of red, white, and black tricolor flag pattern, the bottom of the seat base sash that read "Arab Republic of Egypt.
Have you seen the Egypt flag pins? Here it is: nice flag shape and gold plating. Can be remained long time and not easy rusty. Man hand filled colors, epoxy on surface. Our products are making with the heart, please send us your inquiry and pretty quality and price will give for you soon. Here is other Africa flag pins: Central Africa flag pins, Ghana flag pins and Nigeria flag pins.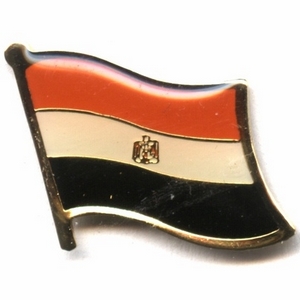 Below is the detailed specification:
1) Egypt flag pins
2) Material: Iron/Bronze
3) Size: 1" or custom size
4) Attachment: Butterfly clutch
5) Production process: Die struck-enamel
6) Minimum order: 1 piece
7) Sampling time: 7 days
8) Delivery time: 10-15 days for 1000-5000pcs
9) Packaging: Each into a free poly bag
10)Payment Terms: T/T, Western Union, Paypal