Do you know beautiful and rich country Norway? Here introduced you Norway flag pins: one of the die struck pins and gold plating. Nice stamping shape and soft enamel process. Finally epoxy on surface. Have making many world and states lapel pins, similar as United Kingdom flag pins, Greece flag pins and Switzerland Flag Pins.

Norway is The Kingdom of Norway, Kongeriket Norge. The western part of the Scandinavia, with Sweden (Sweden flag pins) in the east bordering the west of the Atlantic. In addition, Norway is also the border with Finland, Russia (Russia flag pins). Honour name: myriad island, the capital of Oslo. Major cities: Bergen, Trondheim, Stavanger, National Day: May 17, 1814, the national anthem: "We love the motherland."

There are two Norwegian flag of rectangular, the length and width ratio of 11:8. For the red flag, the flag of the surface blue, white cross-shaped pattern, the left side a bit more. Norway in 1397, with Denmark, Sweden formed the Kalmar Union, the Danish rule, the cross on the flag from the cross pattern of the Danish flag. Government agencies flying the the dovetail flag, and other occasions, hoisted above horizontal rectangular flag. 1821, Norway established the Ensign this pattern. Independence in 1905, officially designated as the national flag. Red, blue and white color combination is typical of the freedom and independence flag.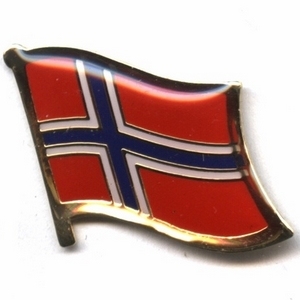 Below is the detailed specification:
1) Norway flag pins
2) Material: Iron/bronze
3) Size: 1" or custom size
4) Attachment: Butterfly clutch
5) Production process: Stamping-plated-enamel
6) Minimum order: 1 piece
7) Sampling time: 7 days
8) Delivery time: 10-18 days for 1000-5000pcs
9) Packaging: Each into a free poly bag
10)Payment Terms: T/T, Western Union, Paypal