Have you had the Denmark flag pins as a Danes? How do you show your love or loyal to your country? Everyone have their own method, take a flag in home or car, wear the special cloth with Denmark. And here we introduce the Denmark flag pins for you: white and red color with soft enamel craftmanship. Nice polishing and high quality gold plating. All the process of pins are hand-made. Similar flag lapel pins are: Poland flag pins, Ukraine flag pins and Austria flag pins.

Kingdom of Denmark (Danish: Danmark Kongeriget) one of the Scandinavian countries (contain Norway: Norway flag pins, Sweden: Sweden flag pins), "Dan" as beaches, forests, "mark" means land, country. Located on the Jutland Peninsula and the nearby islands. Southern is the Germany (Germany flag pins). Denmark belongs to the highly developed countries of the world economy, can provide a lot of social welfare, the gap between rich and poor is quite small, nationals enjoy a high standard of living. Football is the first sport in Denmark. Capital: Copenhagen, major cities: Bornholm, Fredrick, accompanied Fort National Day: April 16, the national anthem: "There is a good place.

The Danish flag is the most ancient and oldes national flag still in used today, known as "the power of the Danes." Rectangular in shape, length and width ratio of 37:28. For the red flag, the flag of the surface of the white cross pattern, Shaopian the left side. Since June 15 of each year, Denmark celebrates as "Val Dema".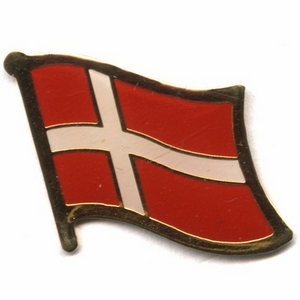 Below is the detailed specification:
1) Denmark flag pins
2) Material: Iron/Bronze
3) Size: 1" or custom size
4) Attachment: Butterfly clutch
5) Production process: Stamping-plated-enamel
6) Minimum order: 1 piece
7) Sampling time: 7 days
8) Delivery time: 10-18 days for 1000-5000pcs
9) Packaging: Each into a free poly bag
10)Payment Terms: T/T, Western Union, Paypal