Cuba's official name is the Republic of Cuba (Spanish: República de Cuba), an archipelago nation of America's northern Caribbean. Located in the south of Florida USA (USA lapel pins), east of the Yucatan Peninsula Mexico (Mexico flag pin), north of Jamaica and the Cayman Islands. Capital: Havana, major cities: San Diego, Santa Clara, Kama Kyu National Day: 1959 January 1, Ri .

Cuban flag is a horizontal rectangle, the length and width ratio is 2:1. Hoist side in red equilateral triangle with a white five-pointed star; the right side of the face of the flag by the three blue wide bar and two white wide strip parallel to white, to constitute. Triangle and the star was originally Cuban secret revolutionary organization's logo, a symbol of liberty, equality, fraternity, and Patriot blood. The five-pointed star (star lapel pin) is also representative of Cuba is an independent nation. Three thick blue bar represents the future of the Republic will be divided into East and West, in three states; white bars with a purity of purpose of the Cuban people in the War of Independence.

Do you want to serve your great Cuba, to honor your energy and life? Take this nice Cuba flag pin to respect your homeland and join the government job. It's made as stamping, soft enamel technology. Epoxy on surface to protect the pin, gold plating and pretty polishing. Other Latin America pin: Brazil flag pin and Colombia flag pins.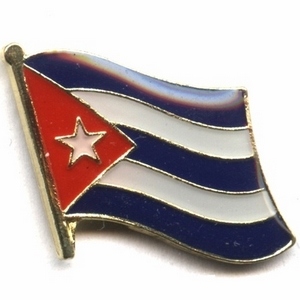 Below is the detail:
1) Cuba flag pins
2) Material: Iron/Bronze
3) Size: 1" or custom size
4) Attachment: Butterfly clutch or safety clip
5) Production process: Die struck-enamel
6) Minimum order: 1 piece
7) Sampling time: 7 days
8) Delivery time: 10-15 days for 1000-5000pcs
9) Packaging: Each into a free oppbag
10)Payment Terms: T/T, Western Union, Paypal