Central Africa is a landlocked country in Africa, full name of The Central African Republic. Central African flag was rectangular, length and width ratio of 5:3. Flag of the four equal horizontal rectangular and parallel to a vertical rectangular form. Horizontal rectangular top-down order of blue, white, green, yellow in color, red vertical rectangle around the face of the flag is divided into two equal parts. Flag of the upper left corner of a yellow five-pointed star. Blue, white and red French flag with the same color, that the historical relationship between Central Africa and France, but also a symbol of peace and sacrifice; green symbolizes the forest; yellow symbol savannah and desert. Five-pointed star that guides people toward the future of Central Africa's bright star.

Central Africa is divided into 16 provinces (Prefecture), 1 municipality (the capital, Bangui), 69 counties located below the provincial (Sous-Prefecture), 11 separate administrative checkpoints (Poste De Controle Administratif). August 13, 1960, the Central African Republic declared independence. December 1976, Bokassa was established the Central African Empire. September 1979 coup that he switched to the Republic.

This Central Africa flag lapel pin is made for Expo 2010.Connected with China.Made with iron,process with stamping, gold plating, enamel, final with epoxy. The same technology with US Flag Pins. Similar flag pins design, please check: Guinea flag pins, Senegal flag lapel pins, and India flag pins.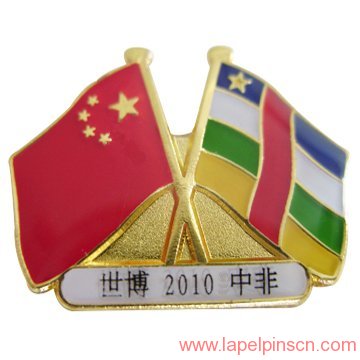 Below is the detailed specification:
1) Central Africa Flag Lapel Pin
2) Material: Iron/bronze
3) Size: 1"x1" or custom size
4) Attachment: Butterfly clutch
5) Production process: Die struck-plating-soft enamel
6) Minimum order: No MOQ
7) Sampling time: 7 days
8) Delivery time: 8-15 days for 100-10000pcs
9) Packaging: Each into a free OPP bag
10)Payment Terms: T/T, Western Union, Paypal