Senegal full name of the Republic of Senegal, the most protruding parts of the western end of West Africa,the capital Dakar. The official language is French, 80% people use Wolof. National Day is April 4. Forest accounts is 31% of the total land area. About 27% of arable land; about 30% of the land can be used as pasture. One agricultural country, peanuts are the most important economic and export crops.
Senegal national flag is rectangular in shape, length and width ratio of 3:2. Flag of the equivalent of three parallel vertical rectangular form, from left to right as green, yellow, and red, yellow rectangle middle of a green five-pointed star. Green symbolizes the country's agricultural, plant and forest, yellow symbolizes the rich natural resources, the red symbolizes the struggle for independence and freedom of the blood of the martyrs; green, yellow, red is the traditional pan-African colors. Green five-pointed star symbolizes African freedom.
This Senegal flag lapel pin made with stamping iron.Left with Chinese flag and right is Senegal.Color is the same as the flag and a little wave,Epoxy on surface and printing Chinese "世博 2010 塞内加尔" means "World Expo China 2010 Senegal".Similar with Guinea Flag Pin, India flag pins and Africa flag lapel pins. Small but very visualized.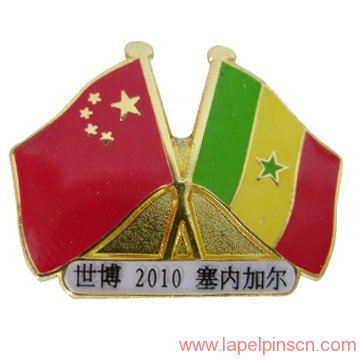 Below is the detailed specification:
1) Senegal flag lapel pin
2) Material: Iron
3) Size: 25x20mm or custom size
4) Plating color:Gold
5) Production process:Die struck
6) Minimum order: No MOQ
7) Sampling time: 7 days
8) Delivery time: 8-10 days for 100-500 pcs
9) Packaging: Each into a free polybag
10)Payment Terms: T/T,Western Union,Paypal