Guinea full name is The Republic of Guinea.The origin of the Guinea:

In the past, a French navigator, reached the West African coast, he landed and asked a local woman: "What is this place?" Women who do not understand French, with native language said "Guinea", that they are women. Voyager mistaken names, so it spread.There is a saying: "Guinea" comes from the Berber word meaning roughly "the black country."

Guinea flag Guinea flag is rectangular in shape, length and width ratio of 3:2. Equally by the three parallel vertical rectangular form, from left to right red, yellow, and green. Red symbolizes the struggle for freedom with the blood of martyrs, but also a symbol of workers for the construction of the motherland and sacrifice; yellow gold behalf of the state, but also a symbol of the country the sun shines; green symbolizes the country's plants. In addition, red, yellow, and green is the Pan-African colors, Guinea people considered "hard-working, justice and solidarity" sign.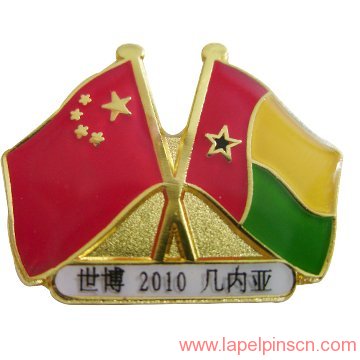 This Guinea flag pin is made of iron.It's also the Africa country flag pin with
Central Africa Flag Lapel Pin
.
Below is the detailed:
1) Guinea flag pin
2) Material: Iron
3) Specifications:Custom size
4) Plating color: Gold
5) Production process: Soft enamel+epoxy+printing
6) Minimum order: No MOQ
7) Sampling time: 5 days
8) Delivery time: 7-10 days for 100-500 days
9) Packaging: Each into a free OPP bag