Belize is a country in Central America, the only English as the official language of Central America. Belize northwest border with Mexico (Mexico flag pin), western and southern border with Guatemala. Independence from Britain in 1981, the name of Belize from Belize the largest city, Belize River. Capital: Belmopan, major cities: Orange Walker, Belize City, National Day: September 1981 21 day.

Belize flag was rectangular, the length and width ratio of about 3:2. The main face of the flag is blue, top to bottom have a red wide-brimmed, middle white circle painted green leaves surrounded by 50 of the national emblem. Blue represents the sky and ocean, the red symbol of victory and the sun; decorative ring of 50 small trees to honor the memory of the country since the 1950 struggle for independence with ultimately victory.

Do you want to see the Belize flag pins? Here it is: silver plating, soft enamel color with epoxy. Two man in the center and ready fight for the freedom. Your best way to love your country and homeland. You are a belizean, loyal to it and contribute your life with it. Take one on your everyday time is a proud thing. Other Latin American flag pins are: Uruguay Flag Pins, Brazil Lapel Pins and Colombia Flag Pins.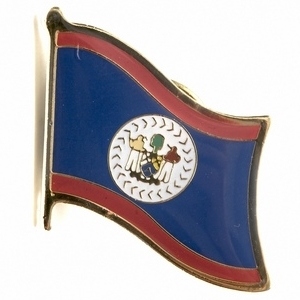 Below is the detailed specification:
1) Belize flag pins
2) Material: Iron/bronze
3) Size: 1" or custom size
4) Attachment: Butterfly clutch
5) Production process: Stamping-plating-enamel
6) Minimum order: No MOQ
7) Sampling time: 7 days
8) Delivery time: 8-18 days for 100-5000pcs
9) Packaging: Each into a free poly bag
10)Payment Terms: T/T, Western Union, Paypal