New Zealand is one of the island countries located in the southwest Pacific. New Zealand's two main islands separated by the Cook Strait, South Island close to Antarctica, across the North Island and Fiji and Tonga, covering an area of 268,000 square kilometers. The capital Wellington, the largest city Auckland. The major cities of Hamilton, National Day: February 6, 1840. The standard of living is quite high, ranking the first three of the United Nations Human Development Index.

New Zealand national flag is rectangular, and the aspect ratio of 2:1. The top left of the British flag (UK flag pin), flag the end of a dark blue, four inlaid white side of a red five-pointed star on the right, the four stars are arranged are asymmetric. New Zealand is a member of the Commonwealth, "米" word pattern that traditional relations with Britain; four stars (star lapel pins), said the Southern Cross constellation, that the country is located in the southern hemisphere, but also a symbol of independence and hope.

Have you seen the New Zealand flag pin? Here is the nice one, rectangular shape with the New Zealand map. Gold plating color and blue, white cloisonne process. Pretty stamping and polishing, touch the smooth surface, you will feel the flat metal pin. Other Oceania pin: Australian flag pins.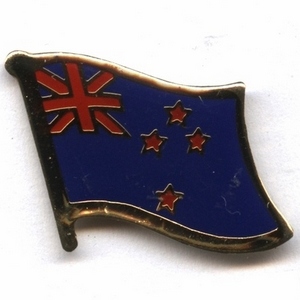 Below is the detail:
1) New Zealand flag pins
2) Material: Iron/Bronze
3) Size: 1" or custom size
4) Attachment: Butterfly clutch or safety clip
5) Production process: Die struck-enamel
6) Minimum order: 1 piece
7) Sampling time: 7 days
8) Delivery time: 10-15 days for 1000-5000pcs
9) Packaging: Each into a free oppbag
10)Payment Terms: T/T, Western Union, Paypal