Cyprus full name the Republic of Cyprus, the Asian island, membership in Europe, located in the eastern Mediterranean, one of the most popular tourist destination in the Mediterranean region. Cyprus become one of the Member States of the European Union on May 1, 2004. Capital: Nicosia major cities: Larnaca, Limassol, Famagusta, National Day: October 1.

Cypriot flag the central painted yellow map of Cyprus, under a green olive branch with two cross. Yellow symbol of chalcopyrite, olive branch represents domestic Greece and Turkey, the two great nations, the yearning for peace (peace lapel pins). August 16, 1960 to become the national flag.

Here is the Cyprus flag pin: gold plating whole soft enamel pins. Die struck, polishing, color filled every step with handmade. It's the valuable and nice gifts with travel souvenir, also can be advertise with your great nation. Other Euro pins: New Zealand flag pins, Portugal flag pins, Finland flag pins.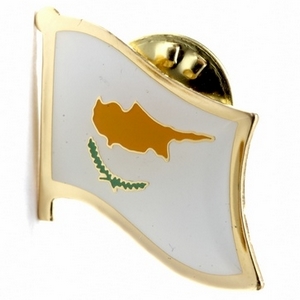 Below is the detail:
1) Cyprus flag pins
2) Material: Iron/Bronze
3) Size: 1" or custom size
4) Attachment: Butterfly clutch or safety clip
5) Production process: Die struck-enamel
6) Minimum order: 1 piece
7) Sampling time: 7 days
8) Delivery time: 10-15 days for 1000-5000pcs
9) Packaging: Each into a free PVC bag
10)Payment Terms: T/T, Western Union, Paypal