When bottle opener can be sticker on wall?How this can be done?Yes,it's happening and innovative.Hanging with any place you want,on table,wall or even the bed.Convenient with the bar,also it's one of the bottle openers for bartenders.After all we need new and unique tool in our life to get more delight and happy.
Wall mount bottle opener is tridimensional,use two nails to fixed.So it's made with zinc alloy.Can be use your logo,name or special design on it.It's not omnipotent,only can be open the bottle with cap like beer.Need less power and more convenience to open.Couldn't move only in one place when you install it.One shortcoming of it.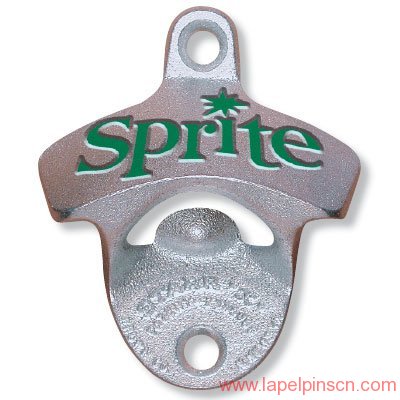 This wall mount bottle opener is not plating.And it can be plating with nickel,silver or gold.Also,can be spray with different colors onsurface.Coating colors on the font "Sprite" embossing.
Below is the detailed specification:
1) Wall mount bottle opener
2) Material: Zinc alloy
3) Size: 8cm x 7.8cm x 3.2cm or custom size
4) Plating color:Nickel
5) Production process:Die casting
6) Minimum order: No MOQ
7) Sampling time: 7 days
8) Delivery time: 8-10 days for 100-500 pcs
9) Packaging: Each into a free OPP bag
10)Payment Terms: T/T,Western Union,Paypal