South Africa is located in the southern hemisphere, the reputation of the "rainbow nation" (rainbow lapel pins), in the southernmost of the African continent. In the east, south, and west sides surrounded by the Indian Ocean and the Atlantic Ocean. The north bordering Namibia, Botswana, Zimbabwe, Mozambique and Swaziland. South Africa is the largest economy and one of the most influential in Africa. It is the only country has three capital: Pretoria, Cape Town, Bloemfontein. Major cities: Johannesburg, Elizabeth white Port, Durban, the National Day: May 31, 1961.

Also South Africa is the world's largest gold producer and exporter. March 15, 1994, the South African multi-party Transitional Administration Committee approved a new national flag. South Africa's new national flag rectangular, length and width ratio of about 3:2, black, yellow, green, red, white, blue six-color geometric patterns constitute a symbol of racial reconciliation and national unity.

Have you seen the South Africa flag pin? Here is the nice one, unusual rectangular shape with the South Africa map. Gold plating color with red, white, green, black and yellow soft enamel process. Pretty stamping and polishing, touch the smooth epoxy surface, you will feel the flat epoxy. Other Africa pin: Nigeria flag pins, Center Africa flag pin and Cameroon flag pins.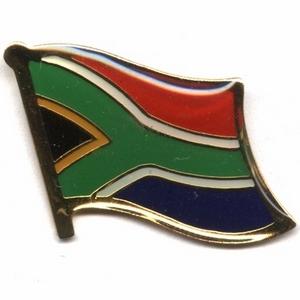 Below is the detail:
1) South Africa flag pins
2) Material: Iron/Bronze
3) Size: 1" or custom size
4) Attachment: Butterfly clutch or safety clip
5) Production process: Die struck-enamel
6) Minimum order: 1 piece
7) Sampling time: 7 days
8) Delivery time: 10-15 days for 1000-5000pcs
9) Packaging: Each into a free oppbag
10)Payment Terms: T/T, Western Union, Paypal