Thinking which country's people is over one hundred million? There are not many: like China, India (India flag pins), America (USA flag pins), Indonesia, Brazil, Pakistan, Russia, Bengal, Japan, Mexico (Mexico flag pins) and Nigeria is one of them. Have you been in Nigeria or seen the Nigeria flag pins? Here we make it as gold plating with soft enamel. Final process is put epoxy on surface. Simple and special.

Nigeria full name is Federal Republic of Nigeria, located in West Africa, southeast of the vertex of the African Gulf of Guinea in the West Bank and neighboring countries west of Benin, Niger in the north, northeast across Lake Chad border with Chad, East and Southeast Cameroon (Cameroon flag pins) adjoining. As Africa's most populous country, it has more than 250 ethnic groups. Capital: Abuja, the main cities: Lagos, National Day: October 1 (1960). The Nigerian people believe in Christianity (Christianity lapel pins) and Islam.

Nigeria flag horizontal rectangle, the length and width ratio of 2:1. From left to right by the green, white, green, three equal vertical stripes. Green symbolizes agriculture, white symbolizes peace and unity. Nigerian national flag design competition in 1959 was elected. October 1, 1960 independent, and the flag.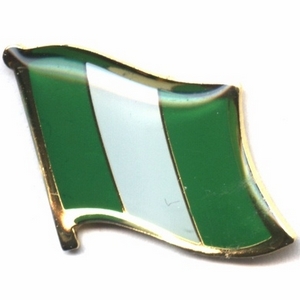 Below is the detailed specification:
1) Nigeria flag pins
2) Material: Iron/Bronze
3) Size: 1" or custom size
4) Attachment: Butterfly clutch
5) Production process: Stamping-enamel-epoxy
6) Minimum order: 1 piece
7) Sampling time: 7 days
8) Delivery time: 10-18 days for 1000-5000pcs
9) Packaging: Each into a free poly bag
10)Payment Terms: T/T, Western Union, Paypal