Mongolia is located in East Asia, landlocked country, the North border with Russian (Russian flag pins), east, west, south border with China. Has a population of about 275 million, mainly Khalkha Mongols. The main language is Khalkha Mongolian. China is the largest trading partner. Capital: Ulaanbaatar, National Day: July 11, 1921, the national anthem: "Mongolian national anthem."

Mongolian flag horizontal rectangle, the length and width ratio is 2:1, rely on the flagpole at the red part of a yellow cable Wing cloth "cable Wing cloth flame is auspicious and prosperous seed the three flames Mongolian flag symbolizes the past, present and future, and the sun and the moon are traditional symbols of the Mongolian people. The combination of fire, day, month, indicating that the prosperity of the country, the central Taiji figure symbolizes the harmony of the country, below the two triangles is equivalent to the arrow down triangle indicates that the use of force to defend the homeland, Tai Chi diagram below the two rectangular have to uphold justice and a loyal intended rectangle of Zuoyouliangfang is a city wall, implies the unity of the people, more sturdy than the wall. In addition, the the flag surface of the red and blue are the traditional colors of the Mongolian People's favorite, red symbolizes joy and victory, blue symbolizes loyal to the motherland, yellow is the symbol of national freedom and independence.

Here is the Mogolian flag pin same design as real flag. Like a flowing, waving banner with the flagstaff. Red and blue color on two side, also the most important logo on left. Soft enamel process and hand-filled color, epoxy is the final technology. Bronze plating color, can be used with long time, not easy be rust or scratch. Some Asia pins: Japan flag pin, Iran flag pin and Pakistan flag pins.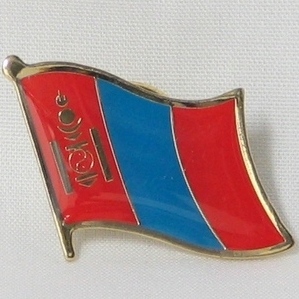 Below is the detail:
1) Mogolian flag pins
2) Material: Iron/Bronze
3) Size: 1" or custom size
4) Attachment: Butterfly clutch
5) Production process: Die struck-enamel
6) Minimum order: 1 piece
7) Sampling time: 7 days
8) Delivery time: 10-15 days for 1000-5000pcs
9) Packaging: Each into a free oppbag
10)Payment Terms: T/T, Western Union, Paypal