Ireland is the Republic of Ireland, Ireland refers to the Irish island, located in northwestern Europe. West is Atlantic, East rely on the Irish Sea, and the United Kingdom across the sea, is a country has 5,000 years long history. The country's landscape is very beautiful and charming. Northern Ireland Northern Ireland is still British. Capital: Dublin, major cities: Cork, Donegal, National Day: March 17, the national anthem: "Warrior Song", official languages: Gaelic, English.

The Irish flag is horizontal rectangle, the length and width ratio of 2:1. From left to right parallel to the green, white, orange three equal vertical rectangle. Green represents the Catholic Irish, but also a symbol of the green island of Ireland; Orange represents the Protestant and his followers, this color is also intended to take the Orange of Nassau Palace colors, also said that the dignity and wealth; white symbolizes Catholics and permanent truce between the followers of new religious sects, and solidarity, but also a symbol of the pursuit of light, freedom, democracy and peace.

Below is the Ireland flag pins gold plating and epoxy on surface to protect. Polishing well and soft enamel color filled by hand. With the best quality and pretty price. India flag pins have the same color as it. Also here is the United Kingdom flag pins and USA lapel pins if you have interest. Take one to express your love to Ireland.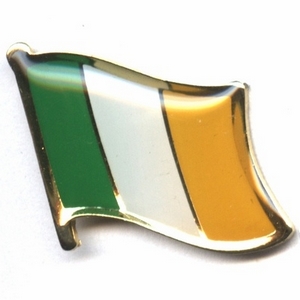 Below is the detailed specification:
1) Ireland flag pins
2) Material: Iron/bronze
3) Size: 18x15mm or custom size
4) Attachment: Butterfly clutch
5) Production process: Die struck-plated-enamel
6) Minimum order: No MOQ
7) Sampling time: 7 days
8) Delivery time: 10-18 days for 1000-5000pcs
9) Packaging: Each into a free poly bag
10)Payment Terms: T/T, Western Union, Paypal