India is the Republic of India,the subcontinent's largest country in southern Asia.The ancient Indians created a splendid ancient civilization, as one of the oldest civilizations, India has a brilliant diversity and rich cultural heritage and tourism resources. India is one of the world's three major religions - Buddhism originated in India is the world's fastest growing countries.

Indian flag in shape of rectangular, length and width ratio of 3:2. Top-down by the orange, white, green three equal horizontal rectangular form, painted with a white rectangular center axis 24 of the blue Falun. Orange symbolizes courage and self-sacrifice, priest vestments is the color of the heroes of his life for the country's color; white symbolizes purity of the truth; Green means confidence, on behalf of the dependence of the productivity of human life. Falun is the pattern of the Buddhist shrine stone lion stigma in India Peacock Asoka.It's the sacred wheel, the wheel of truth, progress toward the rotation of the wheel, the sky wheel of samsara forever.

This India flag pin made up with iron.Color filled with yellow, white, green and red, there is no round design in middle. For this is the carftmanship of enamel, not printing. Same as Guinea flag pins, US flag pins, and Africa flag lapel pins. Round shape is ok if making as hard enamel, but it's more expensive than this one.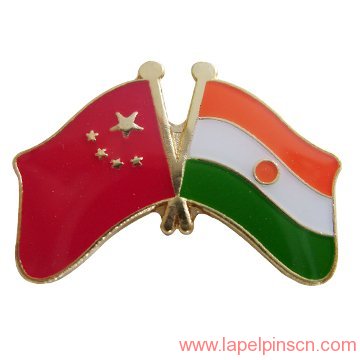 Below is the detailed specification:
1) India flag pin
2) Material: Iron
3) Size: 25x20m m or custom size
4) Color:Gold plating
5) Production process:Stamping-plating-enamel
6) Minimum order: No MOQ
7) Sampling time: 7 days
8) Delivery time: 8-15 days for 100-9999 pcs
9) Packaging: Each into a free poly bag
10)Payment Terms: T/T,Western Union,Paypal