Yellow means "gold", so many country used it as flag. Here is the Ghana flag pins: yellow in the center with a star (Star lapel pins), gold plating with epoxy on surface. Same as the Cameroon Flag Pins and Bolivia Flag Pins. Take one if you are a Ghanaian. It's the best way to loyal and love your great country.

Ghana is Republic of Ghana, follow the history of an ancient name of the country. Because of Gold-rich, known as the "Gold Coast" before independent. A country in West Africa, located in the north shore of the Gulf of Guinea, west of Ivory Coast, north Burkina Faso, east adjoin Togo, the Atlantic Ocean to the south, the country in most areas are plains. Capital: Accra, National Day: March 6, 1957, the official language: English. Known as the hometown of Cocoa.

Ghana flag was rectangular, the length and width ratio of 3:2. The top-down parallel to the red, yellow, green, three equal horizontal rectangles composed of the yellow part of the middle is a black five-pointed star. Red symbolizes sacrifice the blood of the martyrs for national independence; yellow symbol of the country's abundant mineral resources; on behalf of Ghana's original name "Gold Coast"; green symbolizes the forests and agriculture; black five-pointed star symbolizes African freedom Polaris.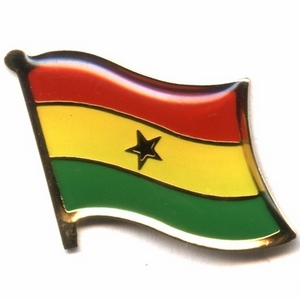 Below is the detailed specification:
1) Ghana flag pins
2) Material: Iron/Bronze
3) Size: 1" or custom size
4) Attachment: Butterfly clutch
5) Production process: Stamping-plated-enamel-epoxy
6) Minimum order: 1 piece
7) Sampling time: 7 days
8) Delivery time: 10-18 days for 1000-5000pcs
9) Packaging: Each into a free poly bag
10)Payment Terms: T/T, Western Union, Paypal